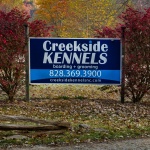 While you are away, send your pets to Stay and Play at Creekside Kennels.
Dog Boarding
All dog boarding includes playtime in our large exercise yard. With your permission, your dog can also play with other guests.
Our facilities include
31 runs of various sizes
All runs are indoor/outdoor
Very Large Exercise Yard
Dogs are exercised twice daily in the yard
Heated and air-conditioned
Owner lives on-site for extra safety and security
All breeds and sizes of dog are welcome
A beautiful setting in the Ellijay Valley
Go-Home Baths available
Our goal is to provide the best possible care for your dogs while they stay with us. We welcome visits during our regular hours and would love to meet you and show you our facility. Feel free to bring your dogs with you when you visit.
Cat Boarding
We currently have space to board 4 cats. The cats are boarded in large condos in a separate area away from the dogs. The cat room is heated and air conditioned and provides a pleasant environment for your cat to stay in while they are here with us.