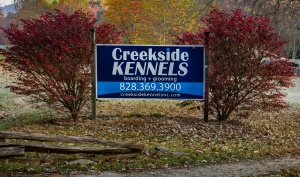 At Creekside Kennels, we know how important it is for you to find a safe, clean, low-stress place to leave your dogs and cats while you are away. We understand that your pets are part of your family and it is important that you are confident in the people you leave them with. We aim to provide a "home away from home" for your best friends.
Creekside Kennels is located outside Franklin on 9 beautiful acres beside Ellijay Creek. Our goal is to provide the best possible care for your pets while they stay with us.
There are 31 runs of various sizes and they are all heated and air conditioned for your pet's comfort.
There is also have a very large grass exercise yard and all our canine guests play outside twice a day. We are able to cater to your dogs specific needs. For instance, if you have an older dog that likes company but doesn't like to run, they can spend time with us in reception instead. Please contact us to discuss your pet's specific needs.
We welcome all breeds and sizes of dog to stay with us. Every dog who stays with us is a part of our family and our goal is to make their stay as enjoyable as possible.
If you would like to meet us and tour the facility, we encourage you to visit. Feel free to bring your pet with you when you come.
Hours
Monday-Friday:   8am – 1pm,  2pm-5pm
Saturday: 8am – 1pm
Sunday: 2pm-5pm